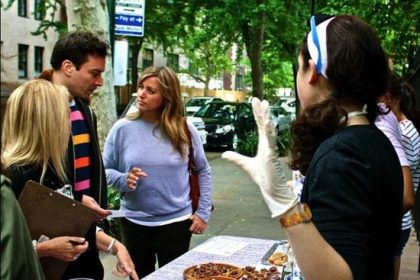 I am happy to get in touch with you again. The last story I sent you about Gramercy Park was published in Blau Journal Global Real News and the newsletter of The Association of Surveyors and Architectural Consultants. If you have not seen it, you should check it out here: www.blaujournal.com
What makes Gramercy Park neighborhood so special?
Hearing the birds chirp Downtown is not a common thing in the big City and that's what you get walking these cute treelined blocks that surround Gramercy Park. It is the only private park in The City where all of the buildings and townhouses surrounding it are landmarks.
I hope you like the pictures of my favorite buildings posted below. More pictures are on my Instagram account katyabruen.
ON GRAMERCY PARK EAST, YOU CAN FIND WHAT I CALL "THE WHITE AND BLACK CASTLES." TO THE RIGHT IS 34 GRAMERCY EAST; IT LOOKS LIKE A DARK FORTRESS WITH A QUEEN ANN STYLE, RED TERRA-COTTA BRICK AND ELABORATE CARVING. IT IS THE OLDEST COOPERATIVE IN NEW YORK CITY, BUILT IN 1883 WHEN APARTMENT LIVING FOR THE WEALTHY WAS A NEW CONCEPT. TODAY, OWNERS ASK $3,000 PER SQUARE FOOT. JIMMY FALLON FROM 'THE TONIGHT SHOW' SHOWED HIS LOVE TO THE BUILDING WHEN HE BOUGHT HIS THIRD UNIT IN THE BUILDING.
Adjacent to it is the most recent Coop conversion. The "White Castle," 36 Gramercy Park East, has a contrasting white terra-cotta facade and knights at the entrance, but no damsels in distress to be found.
According to the trustees however, the best view is from 18 Gramercy Park South, developed by the Zeckendorf brothers and renowned architect Robert A.M. Stern. Built in the 1920's but redeveloped recently, average price per square foot runs around $4,500. It's the tallest building around the park standing at 17 stories high. Each floor has a single residence while the top floors are duplex penthouses with an infinity pool and a terrace that is just shy of 2,000 square feet.
Think of the view from across the park, with both castles in sight, from the condominium on 7 Gramercy Park West. Next to it, 4 Gramercy Park West, is a two unit townhouse that was once the home of former 1800's New York City mayor James Harper.
A lot of history was made on these 2 acres in New York City, what will the future bring to the neighborhood? Maybe a guest visit by you.
By:
KATYA BRUEN
Licensed Associate Real Estate Broker
212.396.8248
917.497.7344
katya@gzbnyc.com